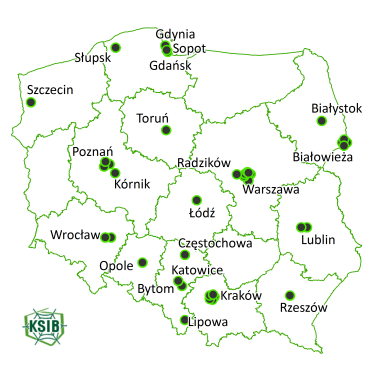 Structure of PolBIN
Basic Rules
Activities of PolBIN are coordinated by the National Node, located at the Faculty of Biology of University of Warsaw. Its role is to integrate and publish the resources of the Network. The central server hosts working copies of databases of the network members. A partial centralization of the system has only technical reasons, making access to the data faster and improving management of the datasources.
Tasks of the National Node comprise also setting shared data of PolBIN institutions in the GBIF information system. The datasets are visible in the GBIF Portal as separate datasources, belonging to member institutions (see PolBIN members and their datasources in GBIF). The Network members keep the full control over the published data. They can enhance and modify their databases freely and they decide which data to publish.
Members of the Network are scientific institutions and universities. Participants of the Network are the member insitutions themselves or their subunits. The Cooperator status was assigned to institutions or organizations that share some resources and participate in PolBIN activities but mainly due to formal reasons are not bound with the agreement of the scientific network.
Currently the Network has 29 Members, 34 Participants and 10 Cooperators.
Activities of the network are led by the Coordinating Council, consisting of representatives of the member insittutions. The scope of activities and tasks of PolBIN are defined in the Network Statute.
Chair:

prof. dr hab. Michał Kozakiewicz, UW

kozak@biol.uw.edu.pl
tel. +48 22 55 26 514

Vice- Chair:

dr hab. Stanisław Knutelski, UJ

s.knutelski@uj.edu.pl
tel. +48 12 664 64 50

Secretary:

dr Piotr Tykarski, UW

ptyk@biol.uw.edu.pl
tel. +48 22 55 26 537
University of Warsaw
Dept. of Ecology, Faculty of Biology
Żwirki i Wigury 101, 02- 089 Warszawa, Poland
Members and Participants
Pomeranian University in Slupsk, Institute of Biology and Environmental Protection

Contact - Prof. Oleg Aleksandrowicz: oleg.aleksandrowicz@apsl.edu.pl

Forest Research Institute, European Centre for Natural Forests, Białowieża

Contact - Krzysztof Sućko: ksucko@las.ibl.bialowieza.pl

Plant Breeding and Acclimatization Institute, Radzików

Contact - Marcin Zaczyński, MSc.: m.zaczynski@ihar.edu.pl

Sea Fisheries Institute, Gdynia

Contact - Jan Warzocha, PhD.: janw@mir.gdynia.pl

Polish Academy of Sciences, Institute of Biochemistry and Biophysics, Warszawa

Contact - Piotr Jonczyk, PhD.: piotrekj@ibb.waw.pl

Polish Academy of Sciences, Mammal Research Institute, Białowieża

Contact - Iwona Ruczyńska, MSc.: inka@bison.zbs.bialowieza.pl

Polish Academy of Sciences, Institute of Dendrology, Kórnik

Contact - Dominik Tomaszewski, PhD.: dominito@man.poznan.pl

Polish Academy of Sciences, Institute of Nature Conservation, Kraków

Contact - Wiesław Król: krol@iop.krakow.pl

Polish Academy of Sciences, Institute of Oceanology, Sopot

Contact - Marta Ronowicz, PhD: martar@iopan.pl

Polish Academy of Sciences, Institute of Systematics and Evolution of Animals, Kraków

Contact - Daniel Kubisz, PhD.: kubisz@isez.pan.krakow.pl

Polish Academy of Sciences, Museum and Institute of Zoology, Warszawa

Contact - Dariusz Iwan, PhD.: darek@miiz.waw.pl

University of Białystok, Faculty of Biology and Chemistry
University of Gdańsk, Faculty of Biology, Geography and Oceanology

Department of Plant Taxonomy and Nature Conservation

Contact - Piotr Rutkowski, PhD.: biopr@univ.gda.pl

Bird Migration Research Station

Contact - Jarosław Nowakowski, PhD.: j.k.nowakowski@gmail.com

Jagiellonian University, Faculty of Biology and Earth Sciencess
University of Agriculture in Kraków
University of Łódź

Department of Invertebrate Zoology & Hydrobiology

Contact - Grzegorz Tończyk, PhD.: tonczyk@biol.uni.lodz.pl

Maria Curie Skłodowska University in Lublin

Faculty of Biology and Biotechnology

Contact - Joanna Czarnecka, PhD.: joanna.czarnecka@poczta.)umcs.lublin.pl

Nicolaus Copernicus University, Faculty of Biology and Earth Sciencess

Institute of Ecology and Environment Protection

Contact - Prof. Jarosław Buszko: buszko@biol.uni.torun.pl

University of Opole, Faculty of Natural and Technical Sciencess
University of Life Sciences in Lublin
University of Silesia, Faculty of Biology and Environmental Protection
Warsaw University, Faculty of Biology

Contact - Bogdan Jaroszewicz, PhD.: b.jaroszewicz@uw.edu.pl

Contact - Mariola Kukier- Wyrwicka, MSc.: mariol@biol.uw.edu.pl

Contact - Maja Graniszewska, PhD.: mgraniszewska@biol.uw.edu.pl

Contact - Piotr Tykarski, PhD.: ptyk@biol.uw.edu.pl

University of Wrocław
Współpracownicy
Jan Długosz University of Częstochowa, Faculty of Mathematics and Natural Sciences

Contact - Cezary Gębicki, PhD.: cgeb@ajd.czest.pl

Białowieża National Park

Contact - Monika Nędzyńska, MSc.: mn@bpn.com.pl

Institute of Agricultural and Food Biotechnology, Warszawa

Contact - Anna Misiewicz, PhD.: misiewicz@ibprs.pl

Upper- Silesian Museum, Bytom

Contact - Jacek Betleja, PhD.: betleja@us.edu.pl

National Institute of Public Health, Warszawa

Contact - Janusz Fiett, PhD.: fiett@cls.edu.pl

Warsaw University of Life Sciences

Faculty of Horticulture and Landscape Architecture, Department of Applied Entomology

Contact - Mariusz Lewandowski, PhD.: mariusz_lewandowski@sggw.pl

Faculty of Forestry, Department of Forest Protection and Ecology

Contact - Adam Byk, PhD.: adam_byk@sggw.pl

Association for Nature WOLF

Contact - Robert Mysłajek, MSc.: rwm@autograf.pl

Adam Mickiewicz University, Faculty of Biology
Pedagogical University of Cracow

Instytut Biologii, Zakład Zoologii Bezkręgowców i Parazytologii

Contact - Andrzej Górz, PhD.: agorz@ap.krakow.pl

Poznań University of Life Sciences, Faculty of Horticulture
Wrocław University of Environmental and Life Sciences